Salt Lake City HVAC contractor.
If you're seeking a dependable heating, ventilation and air conditioning company in the Salt Lake area let Plumbing Utah become your dedicated HVAC contractor. It has always been our goal to keep the heating and cooling units of our customers running for years. Annual maintenance is always the best with air conditioning and heating units. Keeping on top of your appliances helps prevent minor issues from becoming large problems.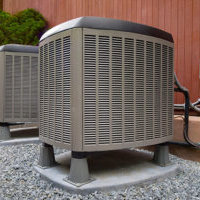 Air conditioning repair or replacement company
We all know how hot Utah temperatures can get. As soon as spring and summer hit the first thought that comes to mind is keeping your home or business comfortable and cool. If you air conditioning unit is not working properly it is something that you will want to take care of as soon as possible.
Common issues with air conditioners:
System not cooling: There are many reasons that this can be happening, bad or faulty wiring, there can also be issues with the compressor or dirty fan blades.
AC will not blow air: A great way to test it is to turn off the unit, wait a couple of minutes and turn the unit back on. If you are still not receiving cool air in your home it is time to call a cooling HVAC technician.
Improper maintenance: If your air filters or coils become dirty it can lead to your air conditioner not working properly. You also run the risk of having your fans or condenser fail permanently because it can overheat by operating without proper air flow. You run a higher risk of having filtration issues if you live in a particularly dusty area where new construction might be happening.
Heating and ventilation repair or replacement professionals
With all of our HVAC service calls we complete a 31 point safety inspection and performance tune-up and cleaning. This includes an electronic leak check for carbon monoxide, checking for proper drafting of the chimney and vent, and checking the gas pressure, air/fuel mixture, airspeed and adjust for maximum efficiency and performance. A common issue with furnaces is that the flame to heat the unit will come on and then shut off within a minute or two of running. This can happen because of faulty wiring, a dirty flame sensor with carbon buildup, or a bad connection between your thermostat and furnace. Remember to pay attention to your heating system, especially when firing it up for the first time as the cold and winter season begins. Pay attention to strange noises, lack of sufficient heat or the unit shutting off before your home or business has reached a comfortable temperature.
Fill out this form for free quote.
Should you have any questions or concerns call our office: 801-601-1298